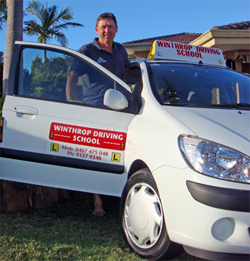 At Winthrop Driving School we strive to provide you with an effective training programme that teaches you how to drive for life. Winthrop Driving School is well respected and highly reputable, and provides a quality service. Joe is an experienced driving instructor, who is skilled at helping drivers of all levels, so you can be sure that with Winthrop Driving School you can achieve your goals safely and effectively. Joe has over thirty years of driving experience and is Government Accredited and has Certificate III in motor vehicle driver training. This Accreditation is required by the Department Of Planning and Infrastructure to ensure that the driving instructor is fully qualified and reputable.

Joe is also the owner of the Winthrop Driving School. He knows the local and surrounding areas very well as he has lived in Kardinya for over 20 years. He has an impeccable work ethic and a pleasant manner, and he gives each individual student his personalised attention.

Joe is available to instruct students in both manual and automatic cars. He uses a 4 door 1.8L Toyota Corolla sedan with automatic transmission and a 5 door 1.6L Hyundai Getz with manual transmission.





Both vehicles are fitted with Dual controls for safety. A driving school is not permitted to teach students to drive unless the vehicles are fitted with dual controls. Once fitted, the vehicles must pass government inspection.

Joe provides an on-going record of student achievement. This is in the form of a detailed checklist which is completed after each lesson. It gives the student (and parents) feedback about the skills that need to be reviewed and fine – tuned.

Lesson Times
Lessons can be conducted between the following hours:
Monday to Friday 7:00am to 6 pm
Saturday 7:00am to 1:00pm
OFFICE HOURS
Monday to Friday: 8:30am to 6:00pm
Saturday: 9:00am to 4:00pm
Sunday: Text only
After Hours: Text only