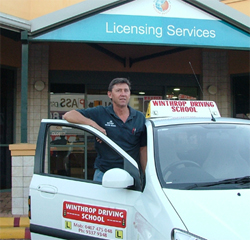 Who we can help
At Winthrop Driving School we strive to provide you with an effective training programme that teaches you how to drive for life. We specialise in driving training for:
• New learners,
• Interstate and International Licensing,
• Experienced drivers refreshing their skills.
Where we operate
Winthrop Driving School prides itself in providing personalised attention to all students, and has become a most trusted driving school South of Perth. We provide driving lessons to students in the following areas:
Alfred Cove, Applecross, Ardross, Attadale, Bateman, Beaconsfield, Bibra Lake, Bicton, Booragoon, Brentwood, Bullcreek, East Fremantle, Fremantle, Hamilton Hill, Hilton Kardinya, Leeming, Melville, Mount Pleasant, Murdoch, Myaree, North Lake, O'Connor, Palmyra, Samson, Willagee, Willeton, Winthrop.
Stay informed on your progress
At Winthrop Driving School our qualified instructor provides his students with a detailed progressive record after each lesson. When it is time for the students to attempt the Government test, our qualified instructor will conduct a mock driving assessment test in order to fine tune any problem areas.
Hire our vehicle for your Government Test
You must supply the vehicle for a Government test, eg, your own car, a borrowed car or a car hired from a driving school.
The vehicle must be fully registered, clean and in a roadworthy condition.
At Winthrop Driving School, if you want or need to use one of our driving school vehicles, our instructor will pick you up one hour before your test for a pre-test and tidy up, after which you would use the car for the test. This would incur a two-hour fee. Using one of our vehicles guarantees that the car you are being tested in meets the testing requirements.